The Majestic Giant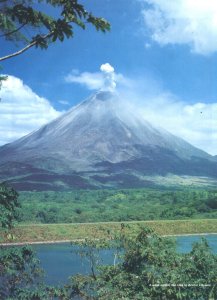 With Arenal Volcano as guardian of the surroundings, the flat lowland region that surrounds this colossus is the heartland of Costa Rica.
For over 400 years Arenal Volcano´s forest-covered cone sat alone and silent on the edge of the San Carlos plains, exhibiting only a little fumaroles activity in its single dormant crater. In 1968 erupted violently without warning, spewing molten rock and ash high into the sky and forming three new craters.
Is has been active ever since with more or less regular eruptions of lava and ash providing fiery demonstrations that draw curios unlookers from all parts of the world.
Rich farming countryside, the flat lowland region that surrounds the majestic Arenal is the heartland of Costa Rica. The volcano towers over lush green pastures, and plantations of papaya and cassava. Rumblings, and occasional explosions, form the backdrop of the lives of these country people who make their living from raising animals and crops.
TOUR INCLUDES
Transfer form / to Puntarenas / Arenal Volcano in a deluxe air conditioned bus

Bilingual tour conductor

Entrance fees to Tabacon thermo mineral waters

Lunch and natural soft drinks
CLIMATE / WHAT TO BRING
A truly tropical climate awaits you, be sure to bring your bathing suit, a hat, sunglasses, sun block, and comfortable shoes for a relaxing day.
DURATION OF TOUR
9 Hours