Biological Reserve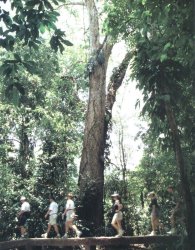 Carara Biological Reserve borders the Tarcoles River. This transitional zone encompasses several ecosystems and harbors an incredible variety of wildlife including the larges population of scarlet macaws in Costa Rica. These brilliantly colored birds are in great danger of extinction due primarily to nest poaching (the young are highly prized on the international market) and habitat loss.
Two entrances along the highway provide access to two hiking areas. The river trail passes through marshlands and past a lagoon formed from an abandoned river meander. This is an exceptional area for spotting waterfowl. The second, shorter trail is a good introduction to transitional evergreen forest. Along with the more than 750 plant species identified here, some representative animals include white-tailed deer, the rare two-toed sloth, margay cat, kinkajou, ocelot an spider monkey.
TOUR INCLUDES
Transfers from / to Puntarenas / Carara Biological Reserve in a deluxe air conditioned bus

Bilingual naturalistic tour guide

Entrance fees to the reserve

Natural soft drinks
CLIMATE / WHAT TO BRING
The temperatures hover in the eighties making it truly tropical. Be sure to bring along insect repellant as well as a soothing aloe lotion to relieve the itching. When hitting the trails and forest avoid perfume and fragrant shampoos, this only attracs mosquitoes, a hat, sunglasses, sun block, lightweight cotton clothing, sturdy hiking shoes for trails, and a rain poncho are a wise choice.
DURATION OF TOUR
6 Hours